Being a chef is not for everyone.
It's for the people who love to cook and be of service to others with their cooking artistry.
In case, if you are having questions about whether being a professional chef is a good career option for you.
Don't worry in this post we are going to give you the 7 best reasons why being a professional chef is best for you. and you'll find out whether is chef a good career for you.
Here are:
7 reasons why being a professional chef is a good career option for you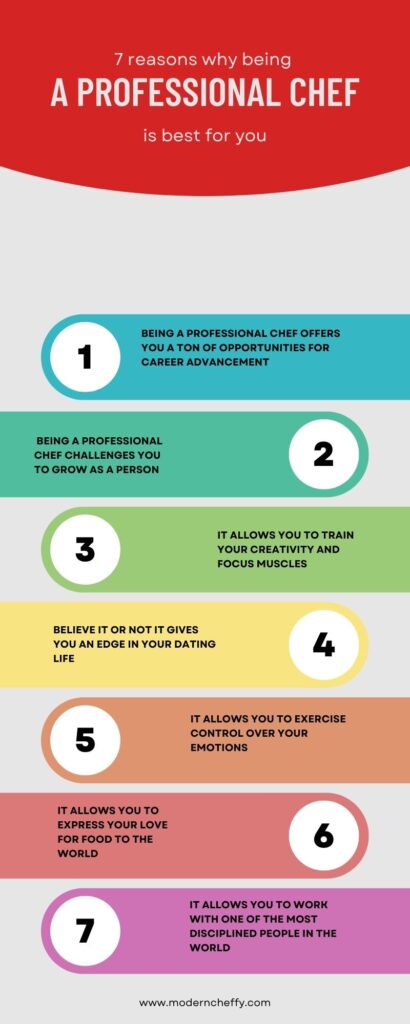 1. Being a chef offers you a ton of opportunities for career advancement
chef as a career gives a lot of job advancement opportunities. you move from an entry-level chef to a higher job position in the kitchen hierarchy. which also accompanies higher income for you.
If you don't want to be in the kitchen for any reasons like old age, some injuries or whatever.
After the right experiences and skills, you can be a restaurant owner, food consultant, food blogger, or celebrity chef.
When you decide to become a professional chef, Sky is the limit when it comes to opportunities.
2. Being a chef challenges you to grow as a person
working as a professional chef often requires working long hours. advancing in your career requires dedication and hard work from your side.
you need to learn, improve and master your culinary craft. you'll go through many tough situations during your career.
you will not only need to improve your culinary skills.
you'll need to improve your communication skills, business skills, listening skills and many more skills.
to become a world-class chef you will need to work with the best people in the industry and be great.
The good news is that you'll encounter people with insane work ethics during your career.
"Kitchens are hard environments and they form characters." – Chef Gordon Ramsay
Click To Tweet
3. It allows you to train your creativity and focus muscles
people say that they are great at multitasking.
they're the busiest people in the world.
But they haven't seen a busy kitchen in the restaurant next door.
most people have no idea how we maintain our focus during the peak times of restaurants. honestly, we too don't know. we got better at keeping our focus even in the chaos of the kitchen by working as a chef.
Working as a chef allows us to get creative with the menu, food process and much more. it could be an entire book on creativity in culinary.
4. believe it or not it gives you an edge in your dating life
Research is done with 3.7 million people by Zoosk a dating app which concludes that profiles mentioning food on your dating profile get more matches.
food and sex were a central part of human civilization from the start.
so as chef Julia child says,
"People who love to cook are always the best people"- Chef Julia Child
Click To Tweet
5. It allows you to exercise control over your emotions
when you work in a heated environment under work stress. And yeah kudos to you if you can keep your cool all day long every day.
but no matter your situation you have got the responsibility of doing your job and doing it well.
you need to co-operate with others and your head chef to advance in your career and to run the kitchen smoothly
even if you want to throw pans at them at the time.
remember with great power to give the world joy of fine eating comes the responsibility to control your emotions.
6. It allows you to express your love for food to the world
the profession of cooking is the best profession for sharing your love for food with the world. and also get paid for that.
you will hardly find a person working as a professional chef who was working in the kitchen for a long time. and then he left the job for reasons like low wages or being hard on the body.
chefs work in the kitchen because they have a passion for the food and dedication to their profession.
your love for the food comes out as a dish on the table.
as the popular saying goes
" Love is my secret ingredient " – Anonymous
Click To Tweet
7. it allows you to work with one of the most disciplined people in the world
professional chefs generally work long hours than most people. chefs work in the festival, Sundays. chefs are hard working.
if you want to know what's called a really busy environment go look your at busy restaurant kitchen.
good cooking comes from prepared hands.
all that requires discipline. people you work with will have a big impact on your future being.
as Jim Rohn said you're the result of five people you hang out with most.
Chef Gordon Ramsay said it well
" If you want to become a great chef, you have to work with great chefs. And that's exactly what I did."-Chef Gordon Ramsay
Click To Tweet
Conclusion: Should you Become a Professional Chef?
you can be a chef if you love looking and have a passion for the food.
the culinary industry is a booming industry and has a ton of opportunities.
you shouldn't get into this for the wrong reasons like making money or being a celebrity. that can come as a by-product of your love and dedication to your profession.
Bibliography & Webliography:
Mentioning food on your dating profile gets more matches, finds study | The Independent | The Independent